IUFRO WORLD DAY – Final call to register and launch of the Interactive Map!
The IUFRO World Day – Digital Forest Science Forum is approaching on 28 and 29 September 2021! This unique 24-hours all-IUFRO online forum will show and share forest-related research and activities and facilitate networking and communication in three time zones around the globe.
BE A PART OF THIS WORLDWIDE EVENT AND REGISTER NOW!
https://www.iufroworldday.org/participation
Registration will grant you free access to our IUFRO World Day Interactive Map, an innovative meeting venue that allows you to explore live sessions and content on a digital world map and experience a virtual journey around the world! Register and get access to 70+ live sessions, 3 Lunch with IUFRO Sessions, 3 Science Policy Forums, 60+ Static News Items!
IUFRO IS PLEASED TO ANNOUNCE THAT THE INTERACTIVE MAP IS NOW LIVE!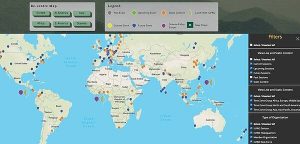 Celebrate the launch of the innovative interactive map with IUFROM and explore the many event items on the map beforehand! All registered participants can access the map here: https://www.iufroworldday.org/interactive-map.
You will be able to view information on sessions and locate events that are of interest to you before the IUFRO WORLD DAY event starts. The actual links to the sessions and content will only be accessible once the event starts on 28 September, 08:00 am UTC, until the end of the event on 29 September, 12:00 noon UTC.
Please visit the IUFRO WORLD DAY website for program details and more: https://www.iufroworldday.org/.
This information is shared by AFF on behalf of IUFRO