PRESS RELEASE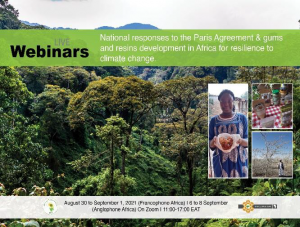 Nairobi. 30 August 2021. The African Forest Forum (AFF) in collaboration with the Network for Natural Gums and Resins in Africa (NGARA) have officially launched live webinars on "National responses to the Paris Agreement and promoting gums and resins in Africa for resilience to climate change."
The aim of the webinars is to share results obtained by AFF during the last two years from its work on strengthening sustainable management of Africa's forests and trees outside forests and the role they play in meeting global and national climate change mitigation goals.
AFF's Executive Secretary-CEO, Prof Godwin Kowero said in a statement, "AFF has worked hard to provide a bridge between science-based knowledge and strong policies that could support the sustainable management and wise use of these resources for the benefit of present and future generations. It has strengthened the capacity of some public and private forest institutions for sustained development outcomes in the sector and delivered on related issues in the context of climate change . In these webinars participants will be expected to learn from the results of studies conducted by the institution in fifteen (15) African countries on policy and forest governance processes that hold potential to cultivate better responses in the forestry sector to the climate change opportunities and challenges on the continent." The countries, he said, are: Benin, Botswana, Cameroon, Democratic Republic of Congo, Eswatini, Ethiopia, Gambia, Kenya, Liberia, Mali, Republic of the Congo, South Africa, Tanzania, Uganda, Zambia.
Dr. Ben Chikamai, Executive Secretary of NGARA in his statement, reiterated the contribution of sustainable management of forests in responding to adverse climate change impacts on the continent; and especially in the arid and semi-arid areas where natural gums and resins play an important role in the lives of many people as well as making significant contributions to the incomes of some countries. He affirmed that the studies conducted in collaboration with AFF, would showcase the continent's existing capacity to strengthen natural gums and resins value chains with the aim of improving rural livelihoods, national incomes and environmental conservation.
More than 200 African stakeholders working on or with interest on climate change, forestry and related issues, are expected to attend the webinars on 30 August to 1 September 2021 (Francophone Africa) and 6-8 September 2021 (Anglophone Africa). Participants will be expected to deliberate and share experiences based the two main areas that AFF, NGARA and other partners have worked on, namely: (i) Enhancing national forest governance responses to the Paris Agreement; and (ii) Development of natural gums and resins sector for climate resilient communities.
The webinars also incorporate media roundtable discussions . They are made possible with funding from the Swiss Agency for Development and Cooperation (SDC) and Swedish International Development Cooperation Agency (Sida) through two projects implemented by AFF, namely: African forests, people and climate change; and Strengthening management and use of forest ecosystems for sustainable development in Africa, respectively. Both projects generate and share knowledge and information through partnerships in ways that provide inputs into policy options and capacity building efforts that could strengthen forest management in a manner that better addresses poverty eradication and environmental protection in Africa.
For more information contact:
Executive Secretary
African Forest Forum (AFF)
United Nations Avenue, Gigiri,
P.O. Box 30677 – 00100, Nairobi, Kenya.
Tel.:+254 20 722 4203
Fax: + 254 20 722 4001/ 4181
Email: exec.sec@afforum.org ; g.kowero@cgiar.org
Website: www.afforum.org
Executive Secretary
The Network for Natural Gums and Resins in Africa (NGARA)
C/O KEFRI, Karura
P.O Box 64636-00620
Mobil Plaza, Nairobi, Kenya
Tel: +254 722 756483
E-mail: bnchikamai@gmail.com
Website: www.ngara.org
For more information, download the following: